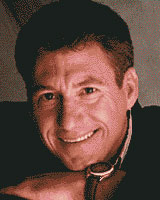 John Caponera always knew he wanted to be in show business but in what dimension was undetermined until the summer of 1979 when John entered a talent show at a local bar in Chicago. After doing several impressions, he walked away with the five hundred dollar winner's pot and a realization that he might have something to offer in the world of comedy.
Caponera's instincts proved right and after two years working the Chicago comedy club circuit, John took his act on the road where he was immediately accepted . He has honed his act over a seventeen year career performing to audiences all over the world. Caponera is considered a comic's comic, a true professional offering a mix of material from topical to impressions to characterizations to stories and one liners.
Michael Paskevich of the Las Vegas Review-Journal writes:"Unafraid of letting a room grow quiet, Caponera sets his own intentionally erratic pace, pausing to perfection to complement his oddly timed but rewarding comic insights. The jokes are further bolstered by his talent for facial gestures that range from goofy to arrognat, making Caponera arguably the hottest club headliner going at present."
Howell J. Malham Jr. of the Chicago Tribune writes: "Every so often, the kingdom of comedy is graced with a gifted, naturally refined performer who can effectively demonstrate the transcendental powers of the medium while making it look deceptively easy."
You may recognize John as the star of his own sitcom called "The Good Life" or as the host of Comedy Central's sport show "Jocks" and ESPN's "Talk II". Other credits include guest star appearances on "ER", "Love & War", "Blossom", "Tales From The Crypt", "The Tonight Show", "The Dennis Miller Show", "L.A. Law", "NBC's Miniseries Drug Wars", "The John Laroquette Show", "The Drew Carey Show", "The Crew" and the "Espy Awards".