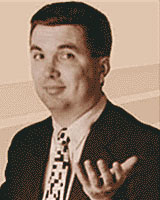 Dobie Maxwell, a.k.a. "Mr. Lucky", has been touring North America as a professional standup comedian since 1985. During that time, Dobie has appeared in all 48 lower continental United States and all across Canada in comedy clubs, colleges and concert halls. He has also done many other things of interest and had he been able to focus on one thing for all these years he wouldn't be "almost" famous.
Dobie has performed with Drew Carey, SNL's Dana Carvey, Jeff Foxworthy, Rosie O'Donnell, Jerry Seinfeld, Jay Leno and many others. He has developed over the years into a strong and seasoned live performer who now headlines his own shows. Dobie's energy on stage and ability to vanquish hecklers are legendary. He has long been a "comic's comic", but he has finally realized that it's CUSTOMERS that pay cash for tickets, not other comics.
Dobie has appeared on the Oprah Winfrey show, Entertainment Tonight and even hosted his own show for two years in his hometown of Milwaukee . He has spent time as a morning radio host, co-host and regular guest on stations in Chicago, Reno, Milwaukee, Lansing, Tucson, Salt Lake City and been a featured guest on radio stations and in printed publications worldwide.